Welcome to Ritchie Mill
---
Centrally located on the bank of the River Valley, Ritchie Mill offers private, newly developed offices for lease in a variety of sizes to suit your business needs. True character with the original stone, brick and timber provides an unique office working environment in Edmonton. Ritchie Mill is the oldest office building in Alberta, an historically designated building originally constructed in 1892 and now of course fully renovated to accommodate todays' office tenancy.
Focusing on green accessibility and our surroundings, Ritchie Mill has incorporated many natural aspects throughout the building including living walls, skylights and substantial natural light with direct window openings for fresh air enjoyment. Robust HVAC filter cleaning to ensure a healthy air quality.
Take advantage of the abundant free parking and close access to the Kinsmen Sports Centre, Glenora Club and the river valley's walking trails, including the beautiful End of Steel park which is located footsteps away from Ritchie Mill.
Ritchie Mill provides tenants and their clients with best in-class accommodations with private, single and multi-office options and flexible lease terms, along with extra features like free wifi (with fibre optic options), lounge area featuring a stone fireplace and gourmet kitchen, multiple boardrooms, barrier free accessibility and on-site property management.
Our History
---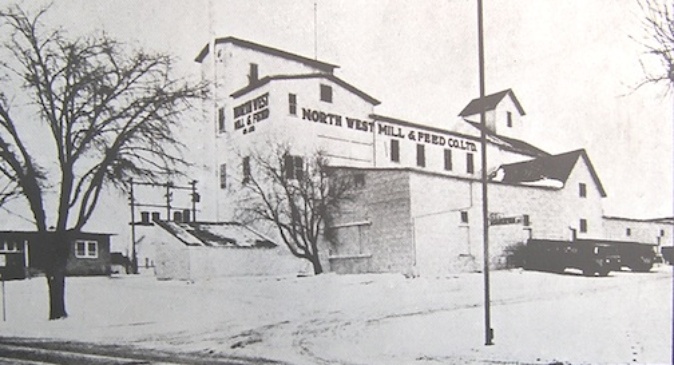 Ritchie Mill is one of Edmonton's premier landmark buildings.   Ritchie Mill was one of the first commercial buildings in the Edmonton region, originally built by the Ritchie brothers as a flour mill in 1892, in what was then known as the Northwest Territories.   By the time Alberta became a province in 1906 the Ritchie Mill was a well-established landmark connected to the Canadian National Railway line in Strathcona.
In 1991/92, one hundred years after its original construction, Ritchie Mill underwent a complete transformation to a modern office facility, yet retaining its familiar external features.
Located in the heart of Edmonton and the community known as Old Strathcona it occupies a central position in close proximity to both the University of Alberta and downtown Edmonton.
The Future
---
Our 129 year old iconic building is expanding! Edmonton Council voted in favour of allowing Ritchie Mill to create a modern office expansion to the north side of the building. 
The multi-floor tiered addition will feature private offices with floor-to-ceiling windows, dedicated patios including a large rooftop patio – all overlooking the beautiful Edmonton River Valley and Downtown Edmonton. 
Ritchie Mill offers best-in-class location on the bank of the North Saskatchewan River with access to the River Valley park system and recreational amenities. The building provides  numerous private office layouts including the use of multiple boardrooms, abundant parking, high-speed wifi & fibre optic, lounge areas, gourmet kitchens and on-site professional management. The tenancy provides a good mix of professional and wellness uses – after a hard day book your appointment for a relaxing massage!